Fragments-exhibition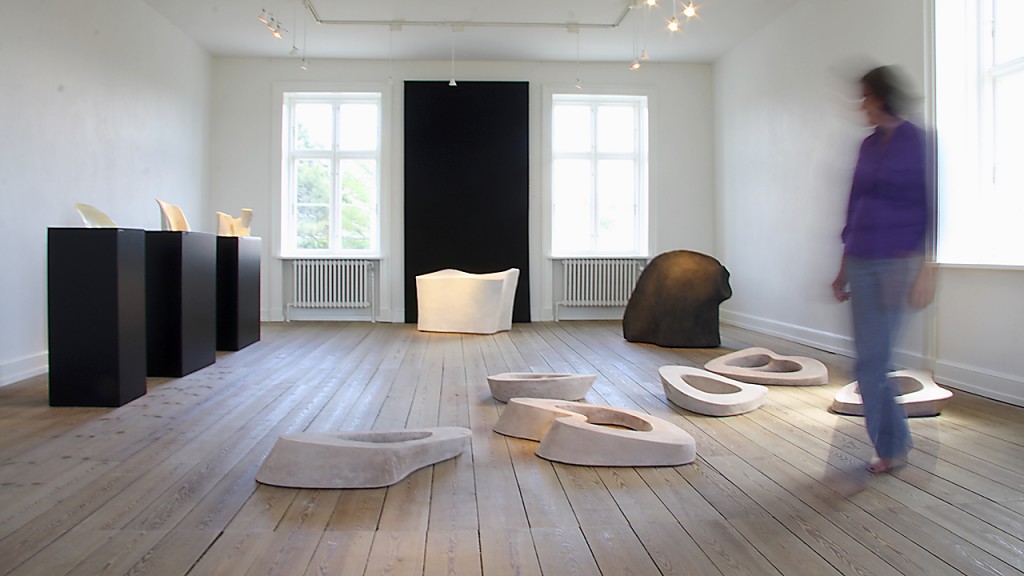 FRAGMENTS  mixed media solo show at Glasmuseet Ebeltoft 2010. Under The Study concept.
The exhibition was realised with generous support from the Statens Kunstfond.
Interview by Mediehus Århus of my work for the show
Exhibition text english / danish:

FRAGMENTS
The soup bone is my excuse. What was at first invisible has become visible, lying there, boiled dry and freed from everything but lines, movement and mass. It attracts my attention to a rare degree.
Inquisitively I seek information, my working process may be enriched; I wonder what the butcher, the vet and the archaeologist know about bones? I want to be taken by surprise; if I´m lucky, I´ll find something I didn't even know I was looking for. Embryonic ideas take shape. Hands working with clay, plaster, rubber, wax and glass, pointing in all directions. Slowly the idea of completed works in blown glass evaporates.
My senses are sharpened. I see connections and kinship in things that don't normally get much attention: the slope in a gravel pit, a broccoli stem, or a piece of motorway guard railing. I collect them because they all contribute to my way of orienting and preparing myself.
I visualise the modelling process; when it´s right it´s almost like a meditative state – time and place cease to exist. There´s only the dialogue between me and the material.
Some ideas are obvious, materialising almost on their own accord. They need special care. At a first glance they may seem too easy, in danger of being discarded. In time they may prove to be some of my best ideas. Others I have to work harder at, and then again they may prove to be a waste of effort…
So that´s how I spend my days, gaining courage, daring to learn, working, doubting, discarding, marvelling. That´s the way it is! However, I must hurry slowly, while there´s still time. I must not forfeit the chance to offer my contribution while the sculpture is still open. Slowly the dialogue dies down and the hands stop working. The sculpture closes around itself and there is nothing more for me to do here. The sculpture is left standing as evidence of the dialogue – open for interpretation.

FRAGMENTER
Suppebenet er min undskyldning. Det umiddelbart usynlige er blevet synligt, som det ligger der afkogt og befriet for andet end linjer, bevægelse og volumen. Det fanger i sjælden grad min opmærksomhed.
Nysgerrigt søger jeg informationer, måske kan min arbejdsproces beriges; hvad mon slagteren, dyrlægen eller arkæologen ved om ben og knogler. Jeg vil gerne overraskes; er jeg heldig finder jeg noget jeg ikke engang vidste jeg søgte.
Spæde ideer tager form. Hændernes arbejde med ler, gips, gummi, voks og støbt glas, stikkende i mange retninger. Stille fordufter forestillingen om færdige arbejder i blæst glas.
Mine sanser skærpes. Jeg ser sammenhænge og slægtskab i ting, som ellers ikke får meget opmærksomhed. Skrænten i en grusgrav, en broccolistok, eller et gammelt autoværn. Jeg samler på dem, for de bidrager alle til min måde at orientere – og forberede mig på.
Frem toner arbejdet med at modellere, svinger det rigtigt, er det næsten som en meditativ tilstand – tid og sted ophører. Der eksisterer ikke andet end samtalen mellem mig og materialet.
Nogle ideer er oplagte og kommer nærmest af sig selv. Dem skal jeg tage vare på. Umiddelbart kan de virke for lette, med stor fare for at blive kasseret. Med tiden kan det vise sig at være en af de bedre ideer. Andre må der arbejdes hårdt for at få igennem, for måske at vise sig at være spildte kræfter….
Sådan går dagene med at fatte mod, turde lære, arbejde, tvivle, forkaste og forundres. Sådan er det! Men jeg skal skynde mig langsomt, mens der stadig er tid. Jeg må ikke forpasse chancen for at byde ind mens skulpturen stadig er åben. Langsomt forstummer dialogen og hændernes arbejde ophører. Skulpturen lukker sig om sig selv, og der er ikke længere muligheder for indvendinger. Skulpturen står tilbage som bevis for dialogen – åben for fortolkning.
Tekst af Lotte Thorsøe til udstillingen FRAGMENTER
Glasmuseet Ebeltoft 18. juni – 5.september 2010.